27 Nov, 2020
HOW MEDITATION AND COOPERATION SHAPED VELA GAMES
It's a completely different world since we last talked to Vela Games.
Back in July 2019, the studio had just emerged from the shadows from which it had secretly been building a team since 2018. Its ambition? No less than reinventing co-operative multiplayer games, leveraging the experience of its founding team, former Riot Games and EA employees.
But since then, the COVID-19 crisis turned the games industry upside down, leaving Vela Games with the task to not only reinvent a genre, but also the whole organisation of its studio at a very crucial stage of its early life. And as Vela truly believes in the power of an office, it was quite the challenge.
"Ultimately we do want to be a studio where people work together and collaborate together in an office space," says director of technology Ivo Teel. "We're mindful that, especially in the future, things like remote working become much more flexible. But for us, especially in the co-op space, we do think that working together in a certain location is important."
While the AAA scene has been quite vocal about the potential downfalls of remote working, from software delays to crunch concerns, the perception has been more positive on the indie side, with the model often praised as the future of making games, allowing for diverse teams even at a big scale. But for Vela Games, creating cooperative games can only be done at its best while working in a cooperative space.
"Essentially, when you work co-located in an office, there is this kind of osmosis that occurs that you take for granted," says director of production Mark Franz. "And so one thing we definitely had to adapt to was being aware that giving clear direction is paramount, giving clear feedback is paramount, being clear with your question is so key, in a way that just [gives] the fluidity of an in-person conversation, things just gel a little bit tighter."
At the beginning of 2020, Vela Games had 16 employees, with a few remote team members coming in the office once or twice per month. It now boasts 20 people, all remote working.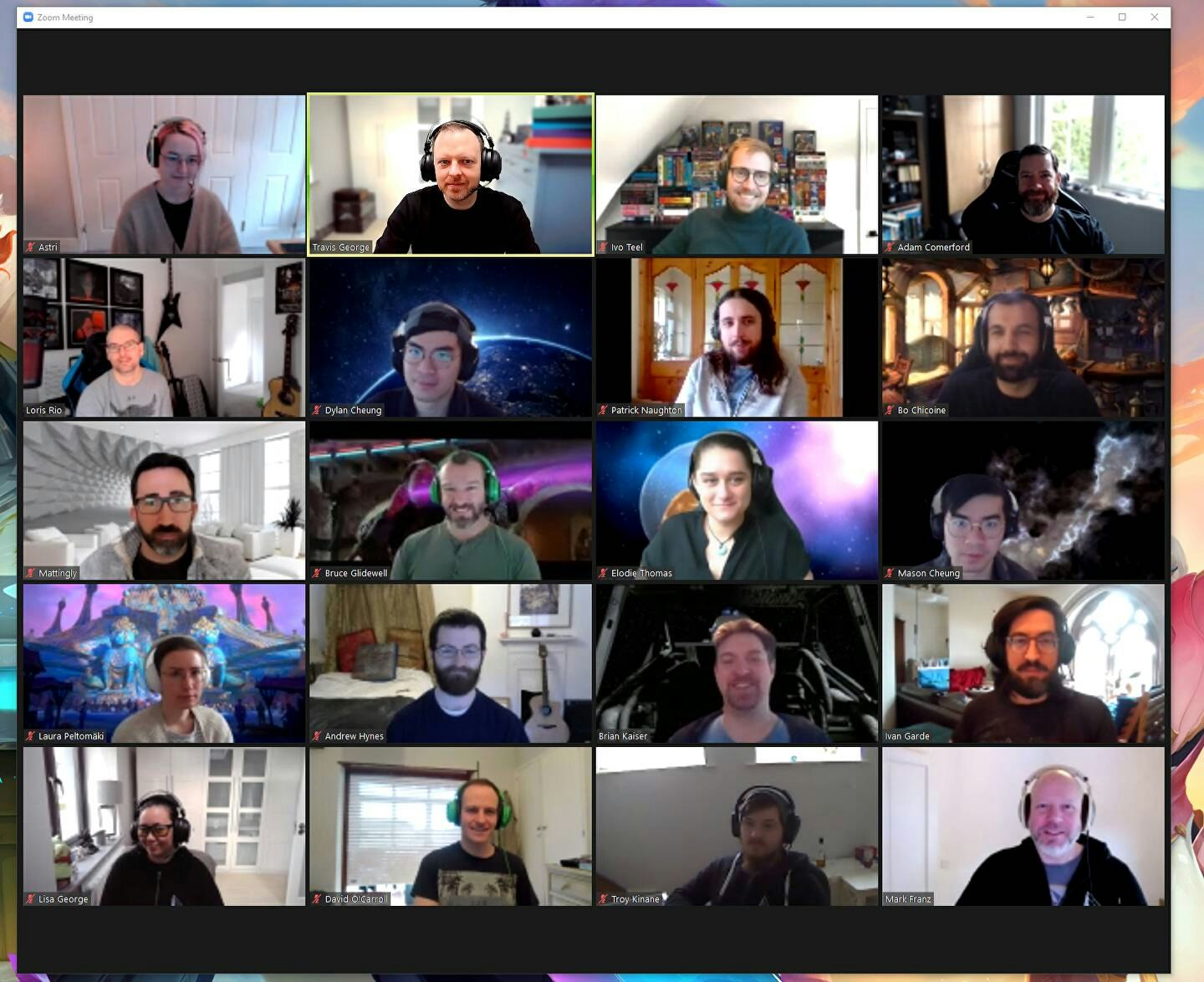 "One thing that's challenging for any studio right now is just hiring and recruitment," says Teel. "We've taken a very deliberate approach to how we want to hire, especially now, keeping in mind the current world circumstances versus what's important for us as a studio."
Meaningful communication and a true connection between team members is at the core of the studio's vision, so it had to come up with ways to maintain those values despite social distancing.
"It might sound hippy dippy, but I just think that being kind to yourself and your team is always great, and during this time it will only pay you dividends," Franz says. "We just spent a lot of time thinking about what we needed to do. What things do we do now and how do we need to change those things? And then we had a plan in place for change in the way that we use Zoom and Slack, the way that we do our team rituals, tying it back to our core values and our development process."
Vela Games' approach to Zoom is particularly interesting -- it has several Zoom 'rooms' so teams can hang out during the entire day in the background. The goal was to give them a sense of still being together in a shared space and to make sure that remote working would not impact their productivity or creativity.
"We were initially concerned about [a] productivity dip," says Franz. "And we just haven't seen it happen. The reality is we're meeting and exceeding all of our roadmap objectives. So from a productivity [point of view], we're doing great.
"Creativity has been strong but I do think... You know, we've had some deeper internal retrospectives where we just talked to the team about what's going on, and one of the things that came up was creativity, and just acknowledging that this time of uncertainty and some pain that people are experiencing affect that."
While retrospectives at Vela Games typically would focus on the project in development, the team deemed it necessary to focus on the wellbeing of its staff during these unprecedented times, and built team spirit through several measures that mimicked the shared space they all value.
"Some interesting things came out of there, including some tying the digital and physical experience more tightly," Franz says. "Again, we hired a collaborative team, they want to collaborate. And so this may sound simple but we do happy hours where we play games, [and] we can also do a happy hour where everyone makes their own pizza for example, and they're sharing making the pizza over Zoom and then we all eat it together as a team. It just connects that virtual experience with a more physical experience.
"There's also a lot of excitement around having mindful meditation on a regular basis. I've practiced meditation for years, and we started holding a regular mindful meditation class that we do as a team."
It's not only Vela Games' way of working that changed during this time, but also its vision. The studio is working on a multiplayer co-op game that hasn't been unveiled yet. And its objective to "unite gamers" seems to have become increasingly relevant, as the pandemic created an ongoing demand for game experiences that people can share.
"As time went on, more and more people gravitated towards games, and that being the social way to interact with friends," Teel says. "That's something for us that we've always seen as an opportunity, and that really highlighted that we [were] on the right path here. Games can have a positive impact on our life through social interactions. So for us it's validating this hypothesis we're exploring, as well as makes us quite optimistic on future fundraising."
Vela raised $3.1 million in a seed round led by London Venture Partners at the beginning of the year, just before things started to shut down. That gave them the freedom to further explore the concept they're working on, which will open up to early testing next month.
"We're trying to create this new space that we call 'MOCO', for multiplayer online cooperative, and I think [the pandemic] has enhanced our effects here," Teel says. "We strongly believe that co-op is the right space to explore something that we feel very closely tied to. But we also noticed that the social connections, the social interactions, having fun together and having moments together, are super important -- for us personally, but also for players, especially this year. So that's sort of reconfirmed that this is a space that we're very excited about."
Franz adds: "I think it's high in our awareness just how impactful games are on people. [It's] such a meaningful, rich experience, and I think so many more [people are] experiencing that, it's given an even deeper sense of mission towards making a fantastic cooperative game. It feels there's depth to the mission that we're pursuing."
Preventing toxicity is the second cornerstone of Vela's vision. In our previous interview with the team, co-founder Lisa Newon George said that their idea revolved around not relying on a winner/loser outcome: "Once the game is only about winning, then someone has to lose, and in a win-lose game the actual gameplay design can contribute to stress and player toxicity in the community."
So Vela Games wants to take a different approach and make sure it prevents any sort of toxicity from the get go.
"We're involved with a lot of people in that conversation," Franz says. "Our immediate thoughts are really around the design of the game and the implications of design decisions that could cause friction between a team. When we're making design decisions, we're always thinking about the player experience and [whether it] leads to friction. So I'd say it comes from design first, and then manifests into so many different areas we look into. We're consciously thinking about that for every design decision we make."
Vela Games hasn't announced yet which platforms its game is going to be available on, but the team is keeping a close eye on what next-gen will have to offer in terms of opportunities to connect players.
"Looking at what you can play now on PlayStation 5 for instance, I think there's some amazing games that really push the boundaries of how things look and feel, and I think for our game it's definitely things we're also exploring," Teel says.
"I think next gen, for a large extent, people look at it from: how does something work? How does something look? That's an important aspect that we're also taking into account, but I think for our focus right now is much more about those player experiences. How can we create meaningful experiences that players have together? How can we focus very specifically on the co-ops aspects of our game, and how can we make an amazing experience around co-op, and then build within the spaces that are available to us."